< HOME
Comstream Reader software.
The program is designed for remote control SLM-7650 modem via com port. The controls are very intuitive and simple.
The connection between the computer and the modem can be made directly through a null modem cable, or via an adapter USB - Com Port.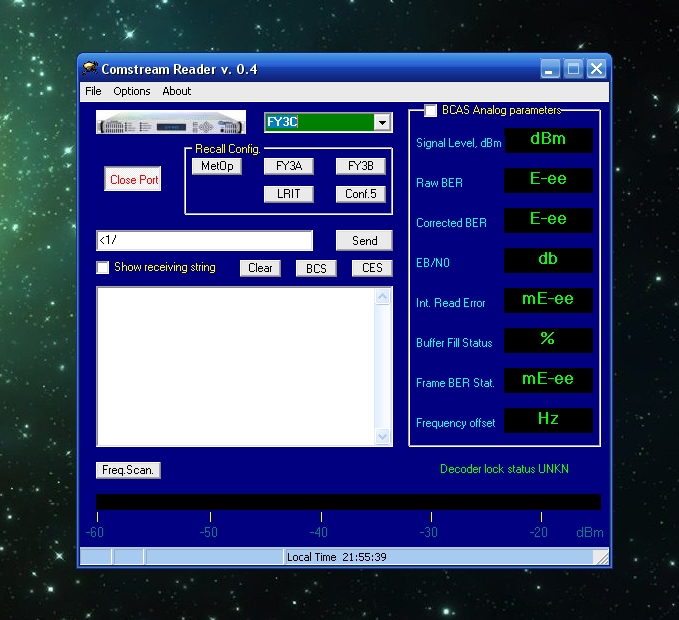 To work correctly, you must correctly configure the connection parameters.
Configure modem SLM-7650:
FUNCTION SELECT --> UTILITY --> SYSTEM --> REMOTE SERIAL PORT ---> BAUD: 19200 FORMAT: 8N1
FUNCTION SELECT --> UTILITY --> SYSTEM --> REMOTE ADDRESS 1
FUNCTION SELECT --> UTILITY --> SYSTEM --> REMOTE TYPE RS232
Configure Comstream Reader software: Option -> Port Setting -> set you Com port, other setting see image.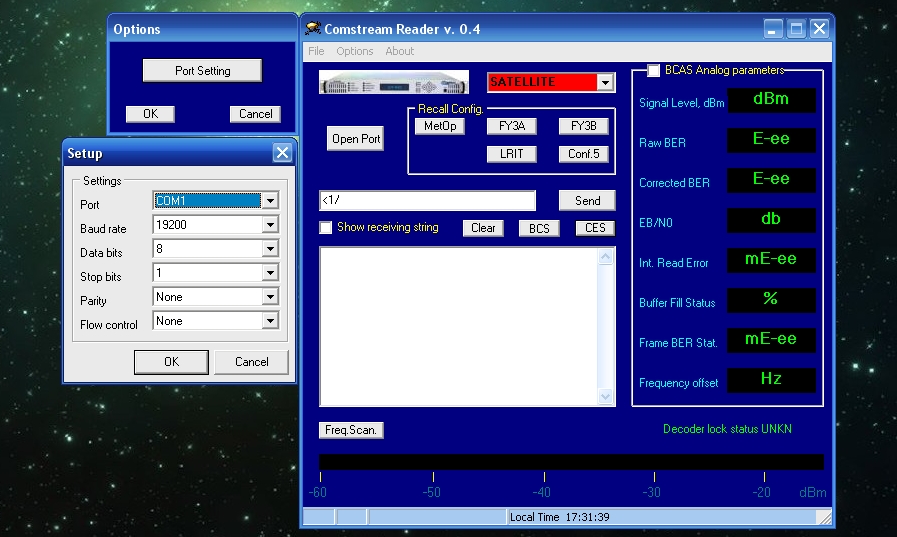 All settings are stored in the ini file (comstreamreader.ini).
You can edit it, customized to your specific parameters. Let's consider in more detail.

In section Recall indicated as will be called the button in the main window, which causes the presets stored in the modem.
Section ComPort stores the connection settings.
Section Frequency that will be passed to the modem settings RX-IF Frequency. You can adjust these values to your local reception conditions.
Datarate contains data for setting the type of demodulator, Viterbi decoder type and flow rate.
Section Spectrum indicates the presence of an inversion of the spectrum at the reception.
Using the program is very simple. Press Open Port.
To send the modem settings for a particular satellite, simply select it from the drop-down list.
And to get analog parameters such as signal strength, offset, error etc., only enough to set checkbox BCAS Analog parameters.
Also have the possibility using the command line send command to modem and see answer.
With a complete description of commands can be found in the manual of the modem SLM-7650 >>>.

Update version software Comstream Reader 0.4.3 available here >>>>>> ( added Meteor MN2-2 satellite).
-------------------------------- Update 21 Jul 2019 ---------------------------------